Zoom! Teeth Whitening in Armstrong Creek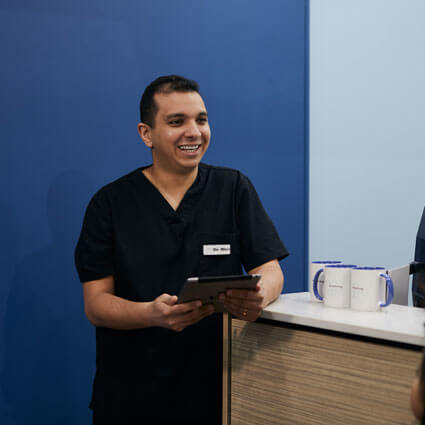 Wish you had brighter teeth? Choose between in-chair whitening or a custom take-home whitening kit to brighten your teeth. Our professional whitening services here at Armstrong Smiles help you get a healthier glow for a naturally radiant smile.
With a brighter smile, you can look your best for your next big event, be it a wedding, engagement photos or an important job interview. It's an accessory you can show off wherever you go.
Professional whitening is excellent for anyone with healthy teeth and gums, without visible dental work in their "smile zone." It works by lifting deep stains and natural discolouration, revealing a brighter white that looks more youthful than before.
New Patients

ZOOM! In-Chair Whitening
ZOOM! Whitening brightens your teeth in a little over an hour for the whitest possible smile. We apply the gel to your teeth and use a special light to oxidise stain particles for outstanding results. Typically, it's possible to brighten your teeth by up to nine shades in only one appointment. If you prefer a lighter white that's more of a mid-range between your current colour and a Hollywood white, we can arrange for that as well.
Custom Whitening Trays
Prefer to whiten at home? We will take impressions to fit you for a pair of custom bleaching trays. Wear them twice a day for up to a week for full results.
What About Tooth Sensitivity?
Some tooth sensitivity is to be expected after whitening your teeth. Fortunately, it usually only lasts about a day. The short-term sensitivity is usually well worth the long-term results. During your ZOOM! Whitening procedure, we will apply a desensitising gel to keep you as comfortable as possible.
Prolong Your Results
Your results can last up to a year or more depending on your diet and lifestyle. We provide each patient with a top up kit to help you reverse any fading throughout the year. You can also choose to return to get whitening every couple of years if you prefer.

Teeth Whitening Armstrong Creek, Torquay, Waurn Ponds, Mount Duneed VIC |
(03) 5215-1333