Dental Implants in Armstrong Creek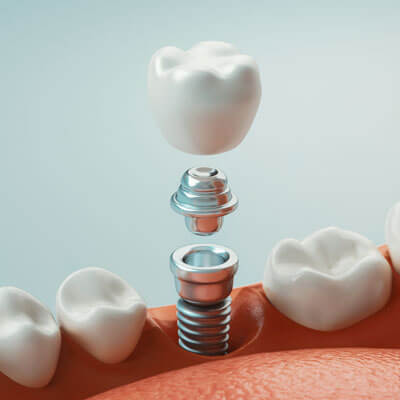 If you have a missing tooth, or a tooth that needs to be extracted, a dental implant can be an excellent way to help you get the confident smile you deserve.
At
Armstrong Smiles
, we are passionate about restoring patients' smiles with durable and long-lasting dental implants.
What Are Dental Implants?
The titanium screw acts as the roots of your teeth, and is placed into the bone of your jaw—just as the tooth roots would be. The titanium design ensures the best possible grip, and should ensure the implant is there for life. The alternatives to dental implants are dentures (also known as plates) or ceramic bridges.
What Materials Are Used?
Most dental implants are made of titanium, which easily bonds into the bone. The ridges on the implants make it look like a screw. However, the ridges help the bone bond to the implant, and ensure the rigid hold of the implant when you eat on it.
There are some newer options, such as ceramic implants, which are a very new technology, and have very little data on their longevity. Similarly, there are clinics proposing laser placement of implants. That's a more experimental type of dentistry, which is not supported by industry experts.
What to Expect
Once we have assessed you, and we are moving forward, you will give us a written consent for treatment.
We will see you in a surgically sterile room to place the implant, and over a period of 60-90 minutes, place the implant and suture a healing layer into place. We review your implants a few days after, and again two weeks after.
Most people choose to have someone drive them to and from the appointment, especially if they are getting sedation.
Am I a Candidate?
We look at the reason you lost the tooth, and take a series of X-rays to study the bone levels and density, to see if a dental implant is a good option for you. We also need to discuss your medical history, and your expectations, and consider these factors. If everything is positive, we will give you a quote on the procedure, and the payment options available to you.
Frequently Asked Questions
It depends on the number of implants, complexity, and if bone augmentation is being carried out. The procedure may usually be 60-90 minutes. Some procedure times may be shorter and others may be longer. The ceramic crown on your implant involves a couple of visits, each about 30-40 minutes.
We like to ensure that our patients are well educated about the process, and prepared for the surgery, with all the prescriptions for antibiotics, pain relief, and possibly medical sedation. So there will be a pre-surgery visit 3-14 days before.
We have a quick check 2-3 days after, which is a short 10-15 minute visit. And then again, at two weeks post surgery, we check on the implant, and remove sutures. After allowing the implant to integrate, which can be 2 to 6 months depending on your bone density, we will see you for a few visits to measure and fit the ceramic crown on your implant.
Do you do all the work or are others involved?
It depends on your X-rays, and the bone augmentation needs (if any). Sometimes a specialist will be required to carry out sinus lifting, or to place implants, if there are issues with nerves, or adjacent teeth, or the location of the sinus. If this is the case, we have partners here in the Geelong region we work with. We will have you return to us to fit your crown on the implant.
Are patients sedated during the procedure?
Everyone will have local anaesthetic so that the visit is comfortable. If you feel you need sedation, we have several options.
We ask you not to do any manual work, heavy lifting or working out at the gym for the first three days after—ideally a week if possible. Most people could return to work the next day, although we offer a medical certificate for up to four days off work if needed.
How long do dental implants last?
Research shows most dental implants will last for life. However, you still need regular dental visits (ideally every six months) for cleaning around the implants. We also suggest investing in a WaterPik or other water jet unit, to clean around the implant/s and ensure that food and bacteria do not lead to complications.
We follow the more conservative approach, where the implant is integrated, before we load onto the implant a crown, bridge or all-on-four implant denture. That does not mean you will be "toothless". We have various options to ensure you can interact at work and socially in as close to a normal way as possible. We will discuss your situation.
Book a Consultation
Wondering if implants are right for you? Contact Armstrong Smiles today to schedule a consultation!

Dental Implants Armstrong Creek, Torquay, Waurn Ponds, Mount Duneed VIC | (03) 5215-1333
Any invasive or surgical procedure may carry risks. Before moving forward, it is recommended that you seek a second opinion from an appropriately licensed medical professional.