Crowns and Bridges in Armstrong Creek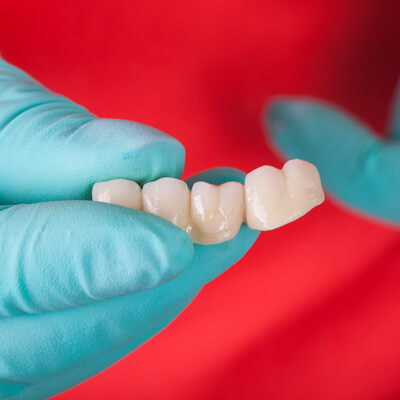 Our teeth are there to help us eat and speak for life – that's why it's important to look after them. But what happens if a tooth breaks or chips? Or if you have to have a root canal, and the tooth is at risk of becoming brittle (because it can't get the nutrients it needs to stay strong?)
That's where a ceramic crown comes into play – also known as a cap – or porcelain crown. Crowns are extremely strong and they can help keep your tooth strong and healthy.
Your dentist,
Dr Mina
at
Armstrong Smiles
in Armstrong Creek Town Centre, will help find the best solution for your individual situation.
Advanced Technology for Beautiful Results
In the practice, we have very hi-tech options like 3D Scanning, which means the crowns can be made faster, and more accurately and environmentally friendly, than ever before. Our Trios 3Shape digital scanner is the ideal tool to help your dental crown or bridge become a reality. Helping the environment with less waste, and all at the same price.
How Long Do Crowns Last?
The Australian Dental Association says that crowns can be expected to last an average of 10 years. However, we see patients every week who have had them for 25 or more years. And they are helping keep the tooth underneath strong and healthy – ensuring you can eat for life.
How Much Does It Cost?
Crowns can vary in price due to the materials and health fund membership pricing. We don't charge for a temporary crown – it's included in your fee. We also offer payment plan options, or a pay in advance discount – ask our reception team about the options available for you. You will always know the prices an your payment options in advance at Armstrong Smiles!
What is a 3D Scanner?
A crown is tailor made using the dimensions of your mouth and takes into account the position of your adjacent and opposite teeth. The highly advanced Trios Scanner will work out the best size for your crown, and also samples the colour of your adjacent teeth, so it matches in colour and shape 100%.
Also known as a Porcelain Crown or Ceramic Crown, these are super strong, custom made, covers for your natural tooth. Providing full coverage and the strength of porcelain, it will make your tooth look natural and it will be as strong as possible.
There are a variety of materials available which will be chosen according to the reason for the crown. Typically, the choice is between a strong hybrid ceramic, or a translucent gleaming porcelain for a tooth at the front. The options are tailored to each and every patient individually.
Metal Crown: It sounds odd, but it's not actually metal. It's porcelain mixed together with alloy, which adds strength for those that need an extra boost to protect their teeth – or a metal base, with a porcelain cover.
Gold Crown: No, you don't have to imagine smiling like a pirate! The gold alloys can be mixed with the porcelain, in varying colours and strengths, to provide the ultimate in strength and protection. There are of course options to have a " normal" white gold tooth, a yellow gold, or a "gold" gold tooth. Because our crowns are personally made for each patient, we can tailor what is right for you. There may be an additional charge for the gold alloy – which is based on the current price of gold in the week when your gold crown is made.
A bridge is a ceramic or porcelain prosthesis which is fixed permanently to your existing teeth, and used to fill a gap or gaps in your teeth. Perhaps you lost a tooth because of an accident? Or, you may be tired of wearing a denture, and want to have the premium feel of no gaps and nothing to put in and out. We've got good news – a bridge may be right for you.
Made of super strong porcelain or ceramic, the bridge will look like your surrounding teeth, in colour and shape – and will look natural. Nobody will know it's not real!
Maryland Bridge: A solution that supports a single missing tooth and is supported by a crown on an adjacent tooth. While it's not as strong as a 3-bridge unit, it is sometimes the best option in certain scenarios
3 Unit Bridge: Think about it like a bridge over a river. You have a tooth on one side and a tooth on the other, with ceramic hiding the river in between.
Multi Unit Bridge: Like the 3 Unit Bridge, the Multi Unit Bridge may cover more than one tooth. It will need at least two teeth to support it – and in some cases may run over a large number of teeth, supported in varying points by the remaining teeth.
Dental item codes used for crowns are:
613 – Full Ceramic or Porcelain Crown
615 – Ceramic or Porcelain Crown with metal support
618 – Metal Crown
611 – Acrylic Crown (not commonly used)
672 – Ceramic Crown for a Dental Implant
655 – Removal of Crown
651 – Recementing a crown
Dental items numbers used for bridges are:
643 – Ceramic Bridge
632 – Provisional Bridge
652 – Recementing a bridge
Want More Info?
If you're considering a crown or bridge, we'd love to speak with you about your options. Contact the team at our practice today to arrange an appointment.

Crowns and Bridges Armstrong Creek, Torquay, Waurn Ponds, Mount Duneed VIC | (03) 5215-1333