Facial Aesthetics in Armstrong Creek
Looking to improve the appearance of your smile? An attractive smile is more than having straight, white teeth. By complementing the lips and skin around your mouth, you can enhance the effect of other cosmetic dentistry services. Dermal fillers and anti-wrinkle services like Botox are a great example. And we can help you if you are looking for the perfect look in Armstrong Creek, Mount Duneed, Grovedale, Charlemont and Torquay
More Than Just Your Smile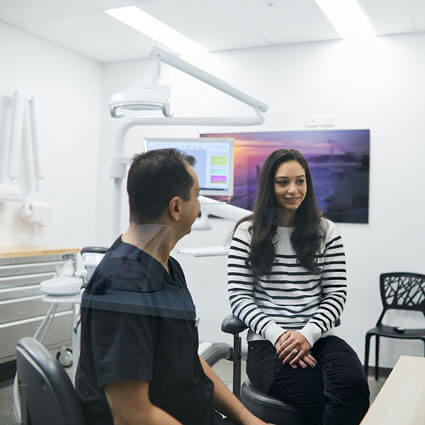 Dermal fillers are designed to smooth out fine lines and wrinkles. These small injections are made up of hyaluronic acid, a natural component found in the skin that helps keep tissue hydrated. By adding these injections into your laugh lines, around the mouth or even between the brows, you can improve upon facial tone and smoothness.
Similarly, anti-wrinkle injections help limit the muscle contractions that cause deep creases at their source. Pairing them with dermal fillers offers even longer-lasting results.
Together with your smile, fillers and anti-wrinkle services help pull everything together for a more radiant look for both your mouth and face.
Easily Combined with Other Cosmetic Services
Every smile makeover experience is unique. Between options like teeth whitening and dental veneers, Invisalign teeth aligners, dermal fillers, and anti-wrinkle services, we'll help you find the right combination of cosmetic services to achieve the appearance you're looking for.
Dr Mina Guirguis (Dentist) has experience in helping patients improve the appearance of their face and mouth by combining dermal fillers or anti-wrinkle injections with cosmetic services.
Adjust Your Smile Line
Applying fillers can help adjust and curve your upper lip to reveal a fuller smile and larger tooth area. Worried about too much gum tissue showing? For gummy smiles, we can relax the upper lip muscles with injectables so that it drops slightly lower in relation to your teeth, or perform crown lengthening to reveal more tooth enamel. We also offer gum grafting to help you get the best results in areas of gum recession.
We work closely with Aspire Skin Clinics in Armstrong Creek Town Centre, to help you achieve the smile of your dreams.
Flexible payment plan options are also available, including a prepayment discount opportunity.
Get Started Today
Discover how our facial aesthetic and cosmetic dentistry services could help you enhance your appearance. Contact Armstrong Smiles to reserve your initial consultation today to speak with Dr Mina!

Facial Aesthetics Armstrong Creek, Torquay, Waurn Ponds, Mount Duneed VIC |
(03) 5215-1333