Dentures in Armstrong Creek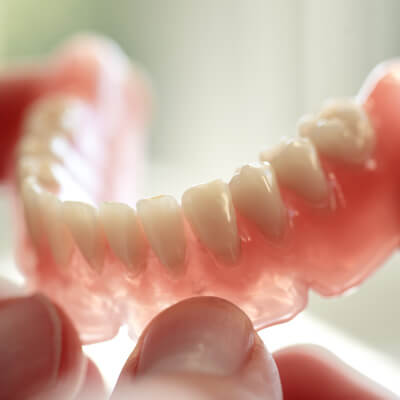 Commonly referred to as false teeth, "falsies," or plates, dentures are a removable acrylic tooth or teeth, on a base, which fills any gaps in your smile. It may be a visible front tooth, or rear teeth, where you need support to chew. Sometimes dentures are used while healing from extractions, while waiting for implants. For other patients, dentures are a permanent solution.
Armstrong Smiles is your preferred denture spot in Armstrong Creek, Mount Duneed, Charlemont, Grovedale and Torquay.
Types of Dentures
We offer the following types of custom dentures at Armstrong Smiles:
Acrylic: With acrylic dentures, brands of adhesives like Polident and Steradent, or FittyDent, are designed to help keep your denture in place.
Metal: Dentures can also have a metal frame, fitted to your palate, with a series of hooks – known as denture clasps – to keep the denture stable. The metal framed dentures are more expensive, but they provide better stability for most people.
Implant-supported: Dental implants can also hold dentures in place. And it may be from 2 to 6 implants needed, depending on your bone levels, and your bite. The dentist can take a simple scan to give more information.
Providing Adjustments or Relining
Dentures can be problematic for some people, as they may slip or fall while eating or talking. There are ways we can assist, so you can eat and smile with confidence.
A service we offer is checking your existing denture, and making sure it's fitting well. Additionally, we can provide denture adjustments or relining.
Sometimes, with time and changes to our body, often caused by changes in medication or diet, or with some illnesses, our mouth changes. Therefore, dentures that may have fit well will need to be adjusted, and made so they fit well again.
Health Funds Dental Item Codes for Dentures
719 – Full Upper + Lower Acrylic Dentures (set)
721 – Partial Upper Acrylic Denture
722 – Partial Lower Acrylic Dentures
727 – Partial Upper Metal Frame Denture
728 – Partial Lower Metal Frame Dentures
731 – Retainer/Clasp
732 – Denture Rest
733 – Denture Tooth
741 – Denture Adjustment
743 – Denture Relining
744 – Denture Relining
751 – Denture Relining
752 – Denture Relining
Book an Appointment
If you have missing teeth, we want to help you restore your smile with dentures. Contact us today to book an appointment!

Dentures Armstrong Creek, Torquay, Waurn Ponds, Mount Duneed VIC | (03) 5215-1333