Meet Dr Mina Guirguis, Dentist
Happiness through Helping Others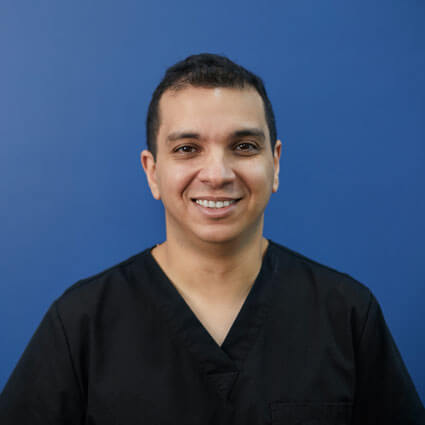 Dr Mina has been practicing dentistry for 13 years – he is wise enough to know, and young enough to take on board innovation, technology and change.  His commitment to the latest in technology, makes his new practice in Armstrong Creek the ideal place to visit.
Perhaps you have seen him previously in Leopold or Torquay – well now Dr Mina is in his own practice, to serve you more completely.
He loves how dentistry beautifully intertwines with charitable work. He has spent much time volunteering with charities abroad and would love to use his skills as a dentist to help those in less fortunate areas during his spare time.
He also volunteered with a mental health charity and realised how much poor oral health can impact one's mental health. "Thus, through potentially being in a position whereby I can help transform smiles and boost self-confidence, I knew dentistry was the path for me."
For Dr Mina, it's rewarding to not only give patients a beautiful, confident smile, but also to relieve their pain.
I chose dentistry because I love how it is a career that boosts confidence in patients through restoring smiles and significantly increasing their quality of life. I view dentistry as a mix between art and science."
Education and Professional Development
To prepare for his dental career Dr Mina earned a Bachelor of Dental Science, and has achieved Australian Dental Council Accreditation. With 13 years of experience since graduation, Dr Mina enjoys keeping abreast of the latest in dentistry. To date, he's taken courses in
Dental Implants
Composite and Endodontics
Outside the Practice
When he's not caring for patients' smiles, Dr Mina enjoys playing with his lovely kids, walking and going on bicycle rides. He also spends much of his time reading.

Dr Mina Guirguis | (03) 5215-1333